Moost've

Approximately 16 years old. A striking white camel that sometimes leads the train up the beach.
Aqaba
Aqaba is around 14 years of age and loves pats! He is one of the camels that you might like to have your photo taken with before your tour. Aqaba is well remembered by his trademark droopy lip!
Kadesh
 A gorgeous looking camel that also likes a few pats from our passengers. Trained by Alison in Broome. A firm favourite to many!
Jarndah
Jarndah is around 10 years of age and was caught from the wild only two years ago. Alison has trained him and he is a good worker on the beach today.
Amos
 Amos is a lovely strong camel that prefers to be towards the back of the train.
Cairo
 Cairo is around 17 years of age. He has a strong personality and loves tourists- because they give him pats!
Issac
 Issac is one of the orphaned calves that Alison has brought up, trained and works on the beach today. A gentle soul who loves to come for his daily walk to the beach.
Jabul
Jabul is around 13 years old. One of our taller camels, he is a good walker that enjoys his task. Trained by Alison here in Broome.
Zoarim
Zoarim has a gorgeous friendly nature and really enjoys coming down to the beach. Another of our gorgeous camels trained by Alison here in Broome. He is about 12 years old.
Jemma
Jemma is the smallest working camel that we have, and also one of the few female (or cow camels). Jemma was an orphaned calf that Alison brought up. She is now trained (by Alison) and working on the beach. Jemma normally looks after our littlest guests as she can only take small weights.
Abbasim
Abbasim stands out from all of his friends as he is a beautiful dark brown colour. He has such a gentle soul and enjoys getting pats and attention from passengers before the tour.
Kabina
Kabina is a beautiful natured camel that is also one of our strongest.
Malachi
Malachi is a gorgeous tall chocolate camel that loves to lead the camel train proudly during the tour. Alison trained Malachi for his work today.
Aslan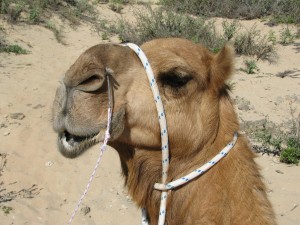 Aslan is the tallest camel on Cable Beach! You will feel on top of the world when you are riding on this gentle giant. A gorgeous boy with a huge heart.