Meet Alison Bird, Broome's Camel Lady, Broome's longest serving and most experienced camel operator who once trekked alone in the Australian Outback with her beloved camels for over 7 years, She really is the true Broome Camel Lady.
Alison has a real affinity with camels and handles them with care and respect. She has trained her camels from the wild, raced them, brought up orphan calves and has also been involved in export. Her camels have been in films (such as Bran Nue Dae) and many TV shows, weddings and other functions. Alison is a true character of the bush. She and her team will delight you with many tales of an era gone by.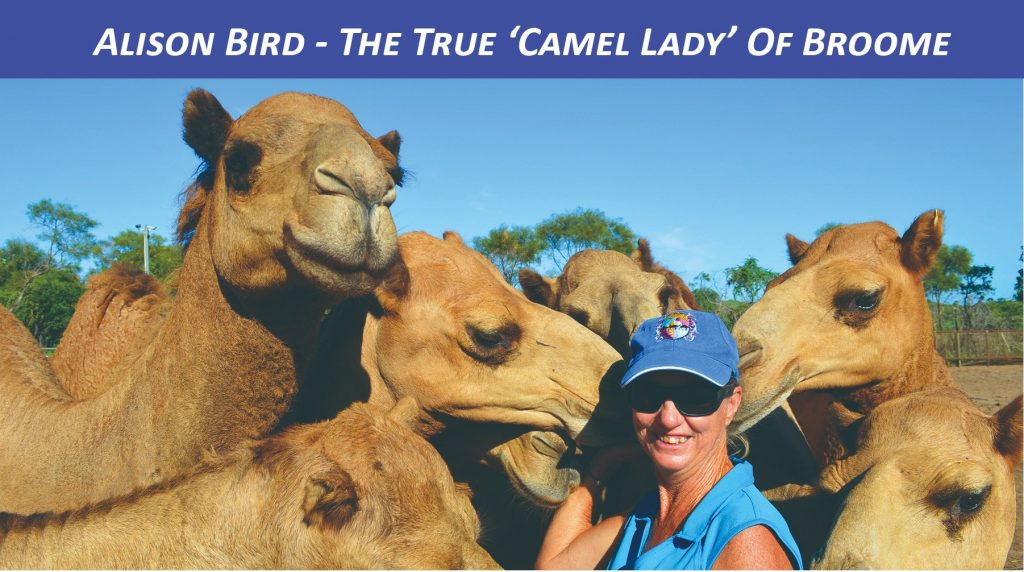 Alison first got involved in camels in 1983. She was working on a cattle station in the East Pilbara when the station next door mustered in a camel. She went to have a look, and with her hands on the railings of the yard, the camel came over and nibbled her fingers. It was love at first bite!
She bought this camel and went trekking. The camel, not being very old, could not carry heavy loads so Alison would have to go back a number of times in order to get all the food, water and camping gear to the destination.
Alison went on to get more and more camels. Alison and her husband Allen now have over 30 camels and pride themselves in having happy, healthy camels that are very much loved and cared for.
Broome's Camel Lady